Tour from your Hotel of Capri Walking Tour
Departing from:
Naples Area
Anacapri
Caeser Augustus gardens
Blue Grotto

Weather/Sea condition dependent

Faraglioni Photo Stop
Capri Walking Tour
You should reach , on your own, the port of Sorrento "Marina Piccola" or the Jetfoil Naples port called "Beverello port" where you'll meet your English speaking licensed guide holding a sign with your name in front of Capri Ticket office at the meeting time that you will see on your voucher . After a brief presentation your private guide will offer you important information about the tour and the places that you are going to visit.
Capri is a little island located near the Gulf of Naples, technically it is an extension of the Sorrento Peninsula. But it is today of one the most famous and important touristic place of all Italy. Situated in a deep sea, the island has hills and shores most of which due to their conformation are unaccesible, and under those hundreds of submarine grottos. The most important mountaines are Mt.Tiberio and Mt. Solaro, reachable from Anacapri the highest point of Capri. The Island of Capri guests a unique flora and faune both terrestrial and submarine, but it is even one of the most important place for the fashion. The best of both worlds.
The tour will start at 08:15 Am at the port of Sorrento/Naples with your local guide. Here you will take a ferry/Jetfoil to the Island which arrives there at around 9.00/9.30 Am. From there your next destination will be Anacapri, you will take the famous Funicular which is a more convenient way or the typical Capri taxi (small and open upside) that will assure you a very nice trip with the fee of 25€. Once reached the highest point of the Island, Anacapri, we will start our walking tour. First of all Anacapri and its sorroundings, with the chance to visit the famous Villa San Michele (a museum once owned by a swedish doctor and writer), and then take the "Seggiovia" (Chairlift) to the mount Solaro where you can take a stroll into the nature.Capri also very famous for its grottos like the "Blue Grotto", the underwater caves of the Green Grotto, where piercing green seas shine through a cave hole like a stain glassed window and the Coral Grotto shows off vibrant shades of orange coral which line the cave walls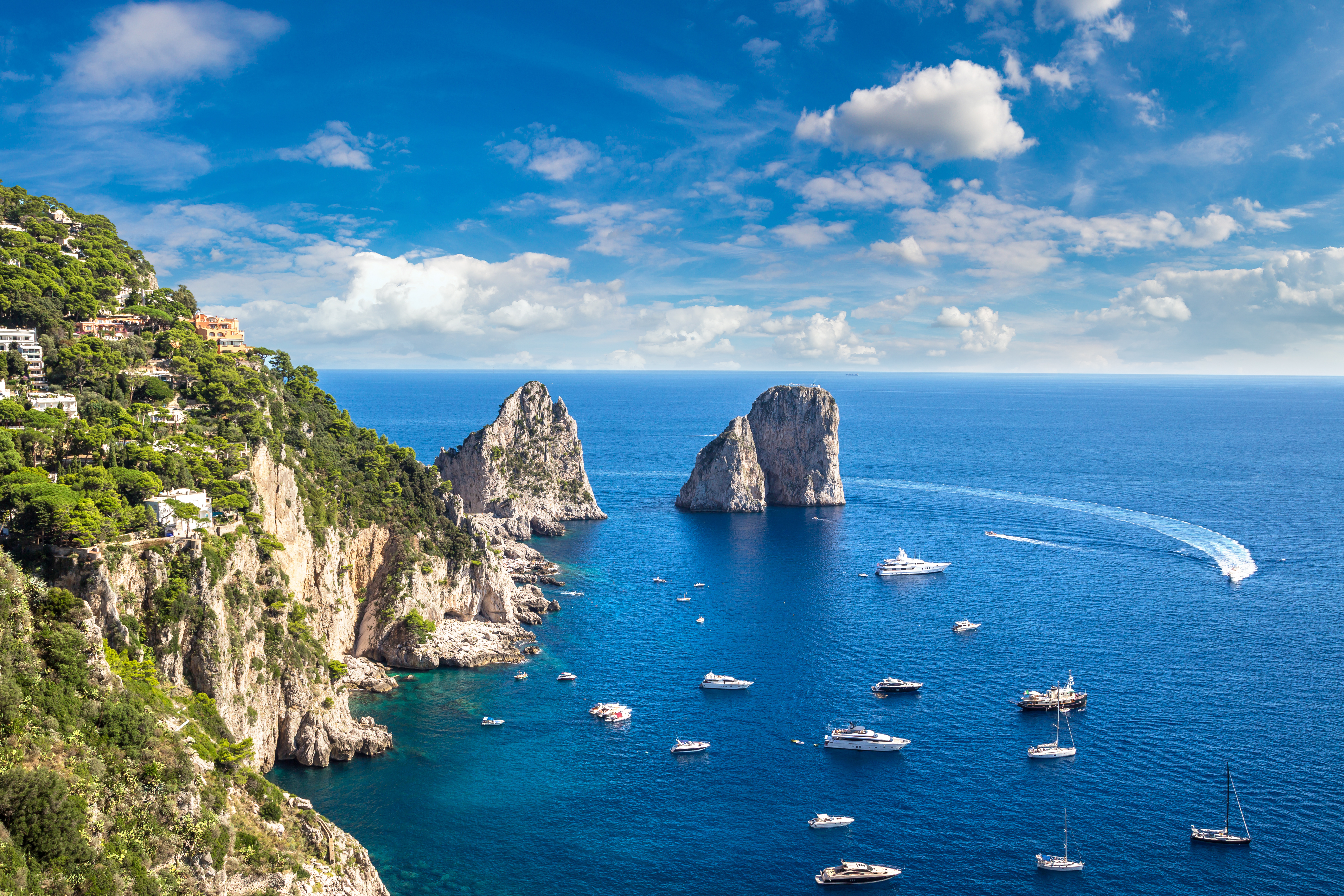 At the 12:30 you will be taken to the town of Capri for an amazing lunch time, cooked with local ingredients. After that is time to walk again to the "Caesar Augustus gardens" a park from which you can enjoy the best spot to look to the Faraglioni, symbol of the Island.
At this point it's time for a nice lunch, trust our staff and you will enjoy a incredible meal made by local ingredients, such as seafood and handmade fresh pasta. Alternatively you can have a pizza or a panino, something quicker but equally delicious.
After that it's leisure time, we will go the port by Funiculare and here you can either go shopping to the famous brands shop, located in all the island or you can choose to take a nice boat trip all around the island.
In late afternoon after this lovely day spent walking all along the Capri Island, it is time to get back to Sorrento Port/Naples port. Your guide will help you to board on your Jetfoil/Ferry to get back to your starting port on your own.