Tour from your Hotel of Amalfi Coast Tour with 5 Stars Lunch Experience at Monastero Santa Rosa
Departing from:
Naples Area, Amalfi Coast Area
Ravello

Free Time

Amalfi town

Free Time

Lunch Time

Monastero Santa Rosa Restaurant
Amalfi Coast Tour with 5 Stars Lunch Experience at Monastero Santa Rosa
Your private driver will greet you at your Hotel / Accommodation (or Naples train station), after a brief presentation you will be accompanied to the luxurious vehicle where our staff will offer you every comfort you need. After that they will give you important information about the day tour and the places that you are going to visit. Finally, let's get started your dream Private Tour !
Your driver will drive you up to the famous Milky Mountains and he will give you chance to take an incredible pic of Mt. Vesuvius and Naples area from that beautiful chain mountains. Once arrived in Ravello,you will have time to visit this lovely little town , famous for its nature and for the Villas like Villa Cimbrone and Villa Rufolo, whose gardens are full of different kind of flowers, plants and trees, especially lemon and orange trees for whom the coast is famous. Villa Rufolo sits on a ledge that has attracted thousands of visitors over the years, thanks, in large part, to the inspiration it provided Giovanni Boccaccio in his Decameron and as the location where Richard Wagner composed the second act of his opera "Parsifal" in 1880.Each summer since 1953 the "Ravello Festival" has honored Wagner with concerts held on the dramatic Villa Rufolo stage overlooking the Tyrrhenian Sea.
After this incredible visit, your driver will take you on a coastal drive (the famous Amalfi Coast) heading to Amalfi town. This one is such an important city for the Campania region that it gives its name to the entire coast. Here you can find several touristic spots such as the cathedrals next to the sea, the shopping streets, the museums and the square "Piazza del Duomo" and its unique church, the beautiful "Sant'Andrea Cathedral".The Amalfi Cathedral is a striking structure with 62 steps leading to its entrance. Its façade is Arabic-influenced Romanesque with a bold mix of stripes, arches, mosaics and textures. The bell tower and cupola are decorated with green and yellow tiles. The heavenly Cloister of Paradise is home to the tombs of Amalfi's wealthy merchants and features Moorish styling in white marble. The Crypt of St. Andrew is located in an altar decorated with beautiful Baroque murals dating from 1660.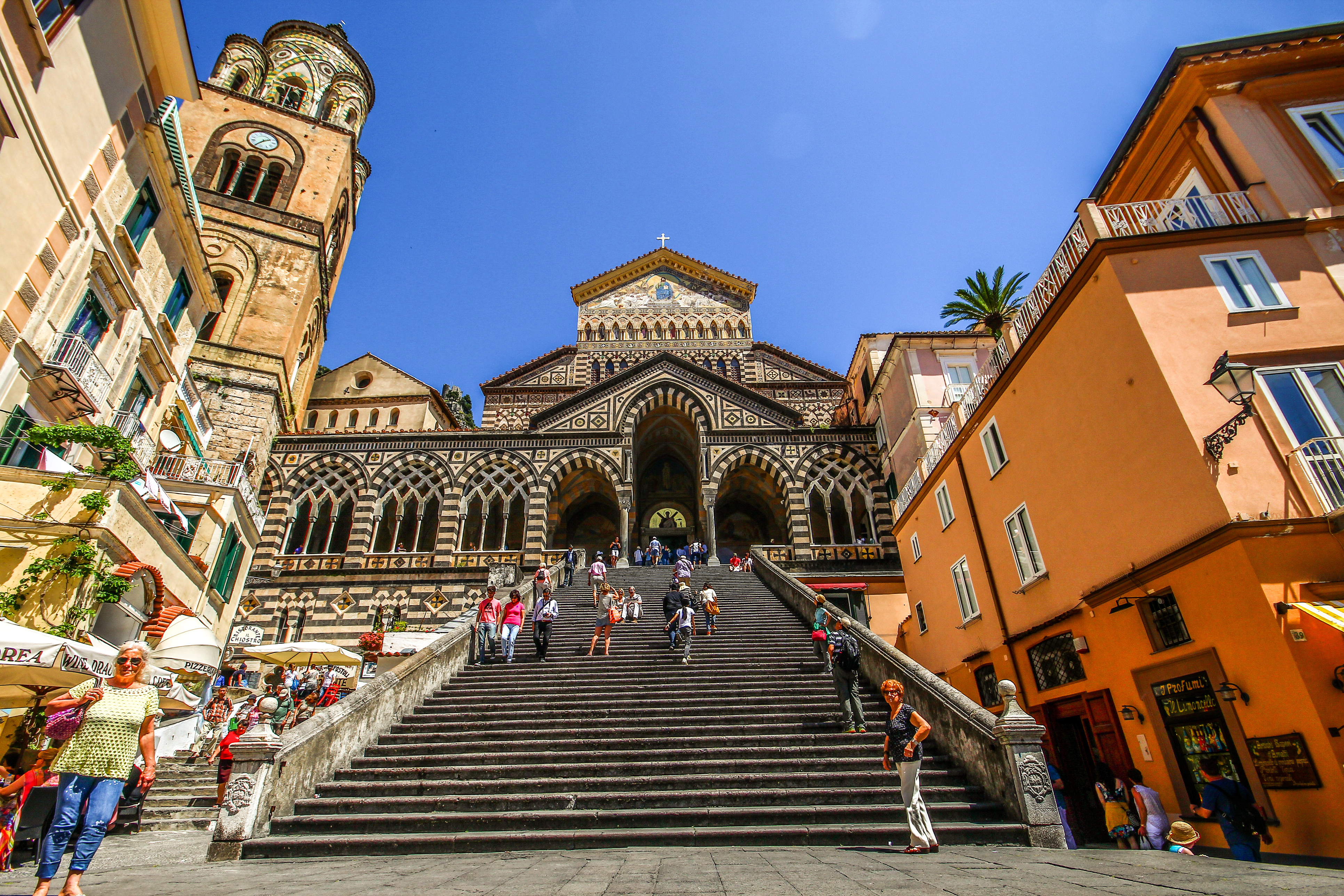 At this point, it's time for the incredible 5 Stars Lunch Experience in one of most stunning and historical build of the Amalfi Coast, the beautiful Monastero Santa Rosa , Dating back to its early days when the famous Sfogliatella Santa Rosa was created by the sisters within the monastery's walls, Monastero Santa Rosa has been a place of culinary innovation. Today, this focus remains at the monastery, drawing on its long history to serve guests world class meals in a world class location. The culinary experience at Monastero Santa Rosa is a feast for all senses, giving guests the ability to soak in the sights and sounds of the Amalfi Coast at any occasion throughout the day. All throughout the property guests will find special spaces to indulge and imbibe, but the experience would not be complete without food and drink to match, and the culinary treats throughout the hotel coming from Santa Rosa's kitchen are as unique as the monastery itself. A well-curated mix of traditional and contemporary Campanian fare, as well as inspiration drawn from the monastic roots of the hotel, help define the gastronomic philosophy, while the on-display cantina filled with Italian treasures can offer the perfect complement to any meal.
After this 5 Stars Lunch Experience , your private driver will take you back to your Hotel / accommodation (or Naples train station) after this lovely day!