Tour from your Hotel of Amalfi coast Drive (Amalfi - Ravello) - Herculaneum
Departing from:
Naples Area, Amalfi Coast Area
Ravello

Free Time

Amalfi Coast Drive

Photo Stops

Amalfi town

Free time

Herculaneum ruins

2 hrs Visit Time
Amalfi coast Drive (Amalfi - Ravello) - Herculaneum
Your private driver will greet you at your Hotel / accommodation (or Naples train station), after a brief presentation you will be accompanied to the luxurious vehicle where our staff will offer you every comfort you need. After that they will give you important information about the tour and the places that you are going to visit. Finally, let's get started your dream Private Tour !
Your driver will drive you up to the famous Milky Mountains and he will give you chance to take an incredible pic of Mt. Vesuvius and Naples area from that beautiful chain mountains. Once arrived in Ravello,you will have time to visit this lovely little town , famous for its nature and for the Villas like Villa Cimbrone and Villa Rufolo, whose gardens are full of different kind of flowers, plants and trees, especially lemon and orange trees for whom the coast is famous. Villa Rufolo sits on a ledge that has attracted thousands of visitors over the years, thanks, in large part, to the inspiration it provided Giovanni Boccaccio in his Decameron and as the location where Richard Wagner composed the second act of his opera "Parsifal" in 1880.Each summer since 1953 the "Ravello Festival" has honored Wagner with concerts held on the dramatic Villa Rufolo stage overlooking the Tyrrhenian Sea.
After this incredible visit, your driver will take you on a coastal drive (the famous Amalfi Coast) heading to Amalfi town. This one is such an important city for the Campania region that it gives its name to the entire coast. Here you can find several touristic spots such as the cathedrals next to the sea, the shopping streets, the museums and the square "Piazza del Duomo" and its unique church, the beautiful "Sant'Andrea Cathedral".The Amalfi Cathedral is a striking structure with 62 steps leading to its entrance. Its façade is Arabic-influenced Romanesque with a bold mix of stripes, arches, mosaics and textures. The bell tower and cupola are decorated with green and yellow tiles. The heavenly Cloister of Paradise is home to the tombs of Amalfi's wealthy merchants and features Moorish styling in white marble. The Crypt of St. Andrew is located in an altar decorated with beautiful Baroque murals dating from 1660.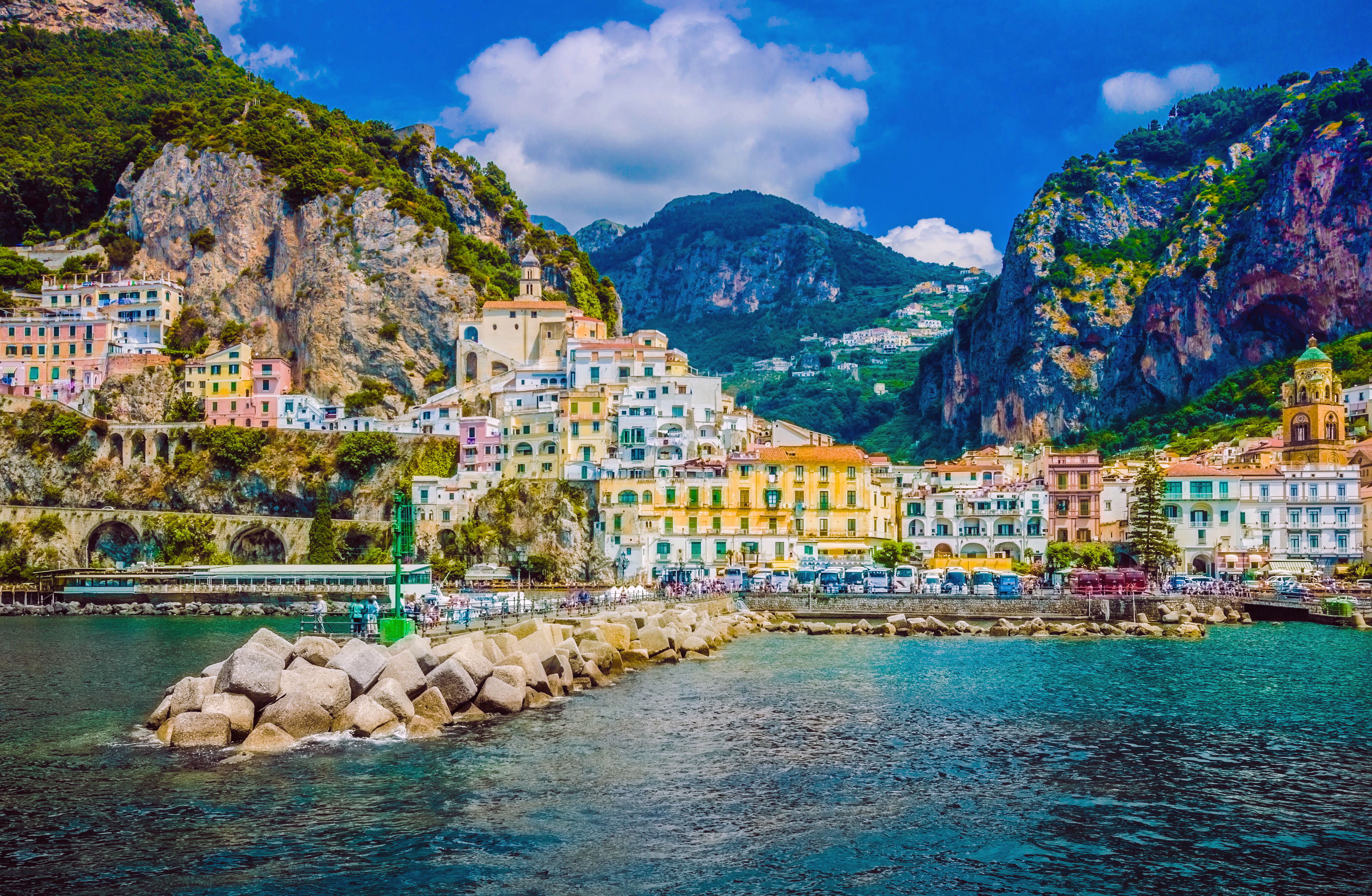 At this point it's time for a nice lunch, trust our staff and you will enjoy a incredible meal made by local ingredients, such as seafood and handmade fresh pasta. Alternatively you can have a pizza or a panino, something quicker but equally delicious. Stopping for lunch will be according to your needs and your time.
The eruption of the Vesuvius, that destroyed Pompeii, hit the city of Herculaneum too with a huge tsunami of dirt and lava. But unlike Pompeii, the city of Herculaneum preserved wooden buildings and any sort of goods. Therefore for archeological studies is a very important site. Sculptures, paints, vases and so on are now in the "Archeological Museum of Naples" and in the "Antiquarium".Ancient tradition connected Herculaneum with the name of the Greek hero Heracles, an indication that the city was of Greek origin. There is, however, historical evidence that toward the end of the 6th century BC a primitive nucleus of Oscan-speaking inhabitants came under Greek hegemony there and that in the 4th century BC Herculaneum came under the domination of the Samnites. The city became a Roman municipium in 89 BC, when, having participated in the Social War ("war of the allies" against Rome), it was defeated by Titus Didius, a legate of Lucius Cornelius Sulla. 
Before leaving your private driver please agree upon the time to leave. Then the driver will recommend a suitable time to get back to your hotel/ accommodation (or Naples train station) after this lovely day!.